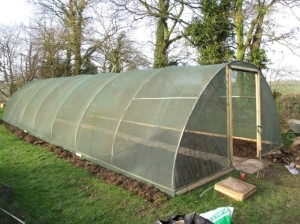 A new shade tunnel was put up in January for the double primroses. Luckily I was able to get one from a nursery that had closed which saved a lot of money.  I thought it would be easy to get it planted with the varieties in rows either side of the path. But nothing is ever quite as easy as it seems and when I started digging I found that at one end of the tunnel – the end with the best soil – a previous owner had buried a concrete wall, a cast iron wheel from a chicken coop, the old herd sign and all sorts of other rubbish. There must have been an old pond that the rubbish had been dumped into. The pond had been made with five layers of the heavy duty plastic sheeting used for sillage pits. This all had to be dug out. The concrete wall I had to break up with a sledge hammer before I could get it in pieces I could move. Oh boy! But it is now tidied up and there are something like sixty varieties of double primroses planted in there. Along the front edge of the tunnel I am planting varieties of Nerine bowdenii.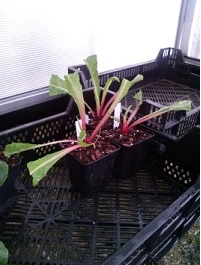 I have an arrangement with the Royal Botanic Gardens Edinburgh that I send them any primroses I have with a Scottish Heritage. This Spring I sent some divisions of Primula 'Bon Accord Purple'. This picture of the plants in quarantine there was tweeted. I felt it wasn't very dignified for them to be seen like that! But it is good to ensure that plants go to a reliable back-up grower.
This year has been much better weather-wise. We had a warm winter so a lot of things didn't ever really stop growing. I cut an enormous amount off my box bushes. But we did have a long dry spell right through July. I think this may be why I am finding that the primroses have got "carroty" very quickly this year. I am ruthlessly dividing and removing carroty roots now.
The big news I suppose though is that in June I was given full National Collection status by Plant Heritage. This feels like the start of something rather than the achievement of a goal. Now I must ensure that the plants are grown well, and propagated so that they are conserved for the future: a big responsibility.