A very pleasant surprise this Spring when I got plants of Primula 'Siobhán' from a keen lady gardener in Ireland. They are slowly bulking up, and currently in flower at the end of November. Such a pleasure to find another variety of double primrose. I am still searching diligently for varieties like 'Prince Silverwings' but my hopes have been dashed so many times that I think the chances of finding some of these old varieties are vanishingly slim now. Please prove me wrong!
There are still quite a few of the double primroses in flower – the stalwarts who flower the longest of all are 'Sunshine Suzie' and 'Easter Bonnet'. 'Belarina Valentine' is becoming a real favourite too.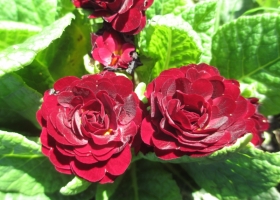 The planting of the shrub walk continues – it will take time for the shrubs to grow and mature but the idea starts to take shape. The newest project in the garden is the planting of two beds of peonies. Each bed is about 21 feet by 14 feet. Now this gives quite a lot of space but there are many wonderful peonies to choose from. I visited Margaret Baber's National Collection in the Forest of Dean to try to help and narrow down my ideas. What a lovely day that was – the photographs I took are just the antidote to a rainy day too! I decided to restrict myself to pre-First World War peonies because even so there was a wide and wonderful range of beautiful flowers to choose from. The best place I could find to buy from is the French peony nursery Rivière. They have been breeding and selling peonies for generations since 1849 in fact. Not only is their range amazing but the customer service is very good. And when I received the plants the quality was astonishingly good. I now look forward to many future seasons of beautiful flowers.
But it has not all been good this year. I have in the garden a summerhouse which is a very prominent feature and visible in all the articles that have been published on the garden in the Western Morning News and Cornwall Life. It came from HSP Garden Buildings in 2010, which is not so long ago. When sitting in it in the Spring I suddenly realised that the wide horizontal glazing bars were concave and when I touched them I realised they had rotted. Although the summerhouse looks lovely it has been nothing but trouble. Firstly almost immediately after it had been put up one of the window panes filled with condensation. A workman was sent to replace it. Within a month of it being replaced the same pane again filled with condensation. I rang to report this and was told "oh! that is not acceptable" and was told that the appropriate person would be in touch. I never heard anymore.
Then I found that the blocks carrying the hooks to secure the doors pull straight off. They were only glued on and had tiny pins to hold them. Certainly not sufficient for purpose. I had to have my carpenter secure the blocks with a proper screw. Next the lock rusted up completely so a key would not go into the keyhole. I had to get the lock replaced. Now the glazing bars are like marshmallow. I contacted the company and was told they would organise for the doors to be replaced and I would hear from them with a date within days – it is now months with no word. So now I have a dilemma. It was obviously a very expensive mistake buying the summerhouse. I could have probably had a new mid-range summerhouse every year for the cost of the HSP one. With the degree of rot in the doors they will not last much longer – so what to do? How long can I keep chasing them?