This has been such a busy year that I have had little time for computers. The weather has been pretty favourable. Last winter was mild, and this has been a fairly dry year for North Cornwall which has meant that quite a lot has been done in the garden. Things are definitely tidier. I have also been greatly assisted by Philip, who has taken on grass cutting for me and proved reliable and diligent. This has meant I had more time for other things. My new primrose bed is proving to be a good position for the double primroses. I have planted those in the red and purple colour spectrums here, and am, now that I have confidence in its suitability, increasing the plantings. I have Cercidiphyllum japonicum 'Rotfuchs' and Hydrangea 'Merveille Sanguine' to give height and more interest to the area. Admittedly both are dark foliage but the feeling is coming on nicely.
My shrub walk is also slowly taking shape. I have, of course, given the best positions to the plants so I still need to solve the problem of paths in wet areas! No-one ever believes how wet my ground is until they walk over it!
My new passion for peonies is fast getting out of control. I may have restricted myself to pre-First World war varieties but I already have quite a few of those.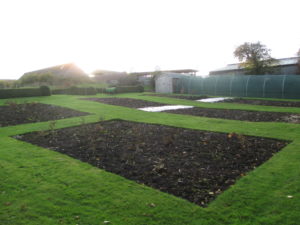 Well, close to seventy varieties planted in beds that are meant to be mirror images although the plants may have other ideas. The Lemoine Wittmanniana hybrids from 1907, which are very early flowering have been given their own area in the shrub walk. I am really looking forward to seeing them flower. The lactiflora peonies are rapidly taking over what was originally intended to be veg garden. Much more fun I think!