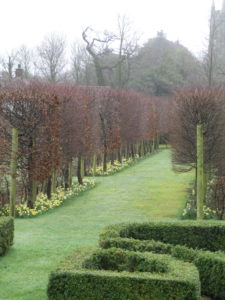 Spring started early this year with a lot of the double primroses coming into flower as early as February. At the same time the daffodils are took over from the snowdrops; under the pleached hornbeam Narcissus lobularis is thriving. They have been seeding themselves for several years and and really starting to look good. Annoyingly they are doing better on one side of the walk than the other so it is not as balanced as I would like but they are giving the splash of colour that lifts the spirits on gloomy North Cornwall early Spring days. I suspect that old varieties of daffodils will become a new interest for me. Already I seem to be getting quite a few!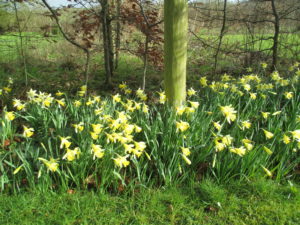 There are quite a few old varieties of daffodil growing on my hedge (Cornish hedge – a stone backed bank of earth). They seem to all be at least pre-1920 varieties although some I think it will be difficult to identify. Realising that set me off looking at other old varieties. So much fun to be had there I think! Like the primroses, it is lovely to have flowers that add colour to the early Spring.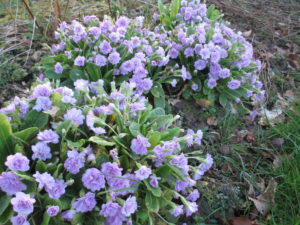 But to come to the primroses – it is looking like a very good year for them. 'Easter Bonnet' is always reliably early into flower. It is similar to historic 'Quakers Bonnet' but is a very floriferous and long flowering plant that I highly recommend. It is the longest flowering of any variety I grow. Walking round the garden, it is extremely wet but pale pink 'Sue Jarvis', lovely white 'Petticoat', 'Sunshine Susie' have all been in flower since February and other varieties are really getting into their stride. Super 'Tregor Rose' a recent Barnhaven double is also looking great. Always early it is a lovely dark red velvet colour with a deckled edge; certainly one of my favourites.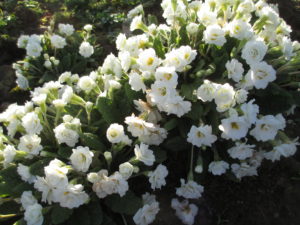 Although it is the double primroses I collect I have quite a few single primroses and this year am pleased at how they have been developing into nice big clumps. They always look better like that. 'Dark Rosaleen' is one of Joe Kennedy's breeding with the lovely dark leaves his plants often have. Such a distinctive and pretty flower.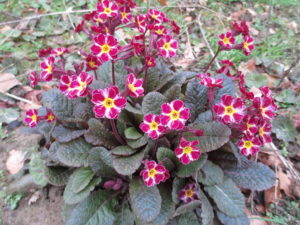 This winter I have created a new bed near the house with some beautiful hellebores from John Massey's Ashwood Nursery. Even when the ground is too wet to walk on I can enjoy seeing them. I have been adding some of the new double primrose releases from Barnhaven to the bed and already it is looking very pleasing.
At the end of March the BBC filmed a Plant of the Month feature in my garden on primroses with Carol Klein as the presenter. It was after a week of heavy rain and hail; the ground was so wet. I thought the cameraman was very brave kneeling in the flower beds to get the angles he needed. He could easily have disappeared from view altogether. The feature will go out on the April 7th programme on BBC2.