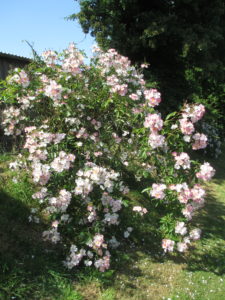 Trying so hard this year to keep on top of annual weeds in the hope that I can reduce future crops! Maybe it will help, maybe it is wishful thinking. I think that there definitely is a correlation between how much work I have put in and how much more easy it is to do the work now. If I think back ten years when I was starting from scratch with a bare field used to cows, I know I don't have the energy now to do the work I did then.
Weather this year has been favourable, so I have been able to get on quite well. I am starting to become more ruthless. I should have done this long ago. Fruit trees that haven't taken properly have gone on the bonfire. I thought I would feel bad but actually I really don't notice their absence – except to think how much better it looks! Some box that was struggling because of the wet ground has met the same fate, and more will follow.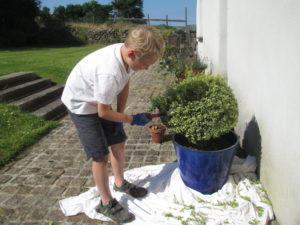 On the box front, Callum, my young neighbour comes to do some work in the garden most weeks. He is very good at trimming things – edges of flower beds, old leaves from phormium plants, that sort of thing. Recently I gave him a box ball to prune. His first effort ever to do this and he took to it like a duck to water. I foresee a future topiarist. Jake Hobson, look to your laurels! Unintentional pun there, sorry!
I am going to give Callum some plants of his own to work on from scratch and see how creative he can be with them.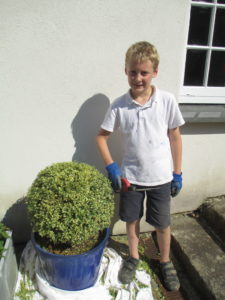 It is certainly interesting to watch Callum at work. Children don't have the worries we have when we get older – he sets to with gusto. I keep reminding him "think twice, cut once", but actually he seems to have an instinctive feel for it. One day he will cut off a bit and wish he hadn't, but so far so good! On the left you can see him next to the finished item on his first effort. Top marks!