The story of a garden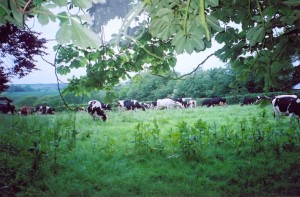 This picture on the left below shows the garden in 2006 when I bought The Glebe. Local residents remember playing tennis there and fetes being held when they were children before World War II, but it had been used as a donkey paddock or just as occasional grazing for some time. My first thought was to divide the space up and create some height – basically to stop it looking like a field. I had noticed the first time I came to the house that the front door lined up with the church tower so I decided to work with that and create an axis with a pleached hornbeam walk. The hornbeam was planted in the winter of 2006/7.
The rose beds were also an early decision. A box parterre in the shape of a Celtic cross seemed appropriate for a former vicarage, and the box hedges give some wind protection to the roses. The picture on the left below shows it in 2008 as it was planted, and the picture on the right below shows it in 2014. Box struggles with the wet in the garden however and you will see in several places it is severely stressed by the wet. This was also a problem in trying to establish hedges to break the garden up and break the wind. Beech has failed despite being tried several times, so I now only use hornbeam which looks similar but doesn't mind sitting wet.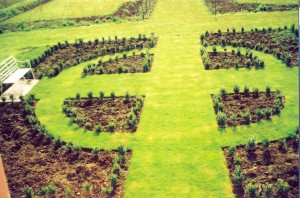 Box does better in drier conditions and is growing well to the side of the house where blocks of box with Sarcococca (winter box) are coming on well. The Sarcococca flowers in February and gives off a wonderful scent. The white roses here are 'Blanc Double de Coubert' which are a rugosa and flower non-stop into late autumn. I also planted a variety of apple and other fruit trees, but these have found the conditions too challenging and I have started to plant shrubs to make a shrub walk. It has been fun finding shrubs that will cope with the conditions. The shrub walk is slowly filling out and already gives me enjoyment as I walk round to check on the progress of the plants.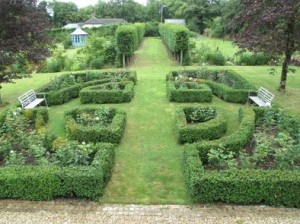 I have National Collection® status for Double Primroses; there are over 70 varieties in the garden. They are in flower in April into May. In the heated greenhouse there are a number of species Nerines which start to flower in August and Nerine sarniensis bulbs which flower in late September/October. More Nerines – bowdenii – and other related bulbs are getting planted in the shrub walk for an Autumn show. June is also an interesting time in the garden when the roses are in flower as well as the Iris ensata which love the damp conditions.